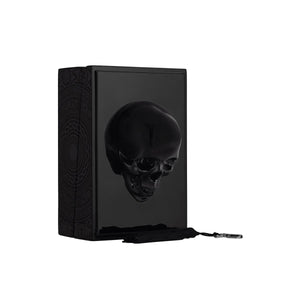 The Phantom
Decorated with a skull, this box knows how to steal the secrets of the night from the eyes of the world. KILIAN PARIS is offering a range of 5 clutches to associate with your favorite scent. Any clutch can be chosen to go with any perfume from any olfactive category.
More KILIAN PARIS craftsmanship details
KILIAN PARIS accessories have evolved into covetable objects of desire in their own right. Unique coffrets and clutches uplift the tactical and visual experience of perfume and further open the playing field of style.
ABOUT THE BRAND
In the pursuit of ultimate luxury, the brand was founded over a decade ago by Kilian Hennessy. From the dark cognac cellars of his childhood memories, to Paris most elegant evenings where desires roam free, KILIAN offers a menu of fragrances within four olfactory families' The Fresh, The Narcotics, The Cellars and The Smokes