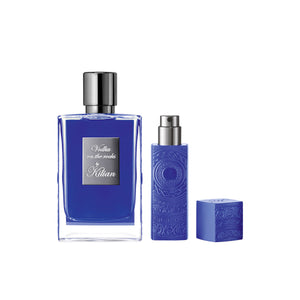 Vodka on the Rocks Icon Set
The refreshing feeling of a Vodka cooled by ice. KILIAN Paris introduces one of its most iconic fragrances in an exclusive set including a 50ml refillable perfume and its matching 7.5ml Talisman travel spray.
The perfume: Ice cracks beneath a stream of silky clear liquid, awakening deep curiosity. Comprised of cool spices like cardamom and coriander plus aldehydes at the opening, On the Rocks evokes the frozen steam rising from ice cubes in a clear crystal tumbler. Bitter rhubarb accord, a splash of clear rose and Lily of the Valley harmonize with an intoxicating leather undertone of sandalwood and oakmoss.
Key notes: Aldehydes, Cardamom, Oakmoss
Olfactive Family: The Fresh
Perfumer: Sidonie Lancesseur.
ABOUT THE BRAND
In the pursuit of ultimate luxury, the brand was founded over a decade ago by Kilian Hennessy. From the dark cognac cellars of his childhood memories, to Paris most elegant evenings where desires roam free, KILIAN offers a menu of fragrances within four olfactory families' The Fresh, The Narcotics, The Cellars and The Smokes