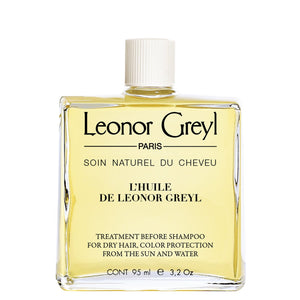 Product Highlights
Color safe
No Paraben
Cruelty Free
No Coal Tar
This pre-shampoo oil treatment works best when applied to dry hair, or prior to applying a shampoo or treatment. Featuring a multi-purpose blend of Botanical Oils, the cocktail facilitates detangling while protecting and nourishing your tresses. Its star ingredient belongs to Refined Copra Oil, which is extracted from the nuts of an African tree that grows in the Kalahari Desert: It possesses excellent hydrating, regenerating and restructuring qualities that your locks will thank you for it. Contains natural UVA/B sun protection filters. Protects hair against the damaging effects of seawater and chlorine. Free of SLS, Silicone, Paraben and Coal Tar. Colour safe and cruelty-free. Contains natural ingredients. Perfect for coloured, highlighted or bleached hair.
HOW TO USE?
HOW TO USE?
Apply to dry hair, length and ends. Evenly distribute with a natural bristle brush. Leave on for 5 to 10 minutes, or overnight, and shampoo. If product is in solid form, run bottle under warm water to liquefy. Keep product on the hair when out in the sun for protection, or while swimming.
ABOUT THE BRAND
ABOUT THE BRAND
The story of Leonor Greyl begins with the meeting of two passionate human beings: Leonor, a hair care and beauty fanatic, and Jean-Marie, an engineer and very keen botanist. Together, they share a common desire: creating natural hair care products long before the 'bio' trend became a hit. Thus, as the couple met in 1968, they clicked. Plants hold no secrets for Jean-Marie Greyl, who also has a degree in galenics. The idea of creating hair care products using plants and natural ingredients, not a mainstream practice at that time, catches on, and so the Leonor Greyl line was born.
INGREDIENTS
INGREDIENTS
**Cocos Nucifera (Coconut) Oil; **Sesamum Indicum Seed Oil; *Buxus Chinesis Seed Oil; **Helianthus Annuus (Sunflower) Seed Oil; *Parfum (Fragrance); **Schinziophyton Rautanenii Kernel Oil; **Corylus Avellana (Hazel) Seed Oil; Propylene Glycol; BHT; Ascorbyl Palmitate; Glyceryl Stearate; Citric Acid; Limonene; Benzyl Alcohol; Linalool; Citronellol; Hydroxycitronellal; Amyl Cinnamal; Hexyl Cinnamal. *Origin Natural, **Certified BIO.