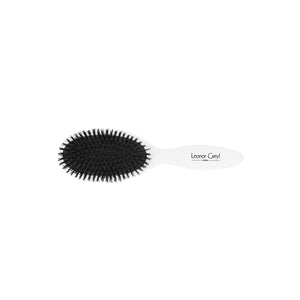 Natural Boar Bristle Brush
Ideal for detangling very long, medium length, thick or frizzy hair, this cushion brush guarantees easy and smooth brushing. It is the key for shiny, healthy hair.
HOW TO USE?
HOW TO USE?
Begin brushing the ends to prevent knots or breakage, then brush your hair entirely. Keep your brush clean by removing impurities with a comb before rinsing it with warm water and soap.
ABOUT THE BRAND
ABOUT THE BRAND
The story of Leonor Greyl begins with the meeting of two passionate human beings: Leonor, a hair care and beauty fanatic, and Jean-Marie, an engineer and very keen botanist. Together, they share a common desire: creating natural hair care products long before the 'bio' trend became a hit. Thus, as the couple met in 1968, they clicked. Plants hold no secrets for Jean-Marie Greyl, who also has a degree in galenics. The idea of creating hair care products using plants and natural ingredients, not a mainstream practice at that time, catches on, and so the Leonor Greyl line was born.