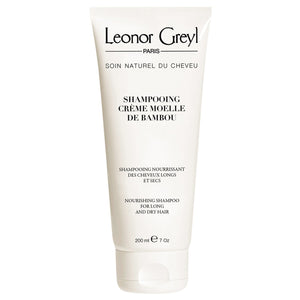 Shampooing Crème Moelle de Bambou
Product Highlights
Color safe
No Paraben
Cruelty Free
No Coal Tar
What does Bamboo Marrow, Plant Extracts, Vitamin B and Silk Proteins have in common? Well, they work brilliantly together in this nutritive cleanser to nourish, regenerate, detangle and protect your tresses. Suitable for all hair types that may be prone to dryness, this shampoo instantaneously cleanses and conditions, restoring its shine, appearance and quality your crowning glory deserves. Breaks down residue and build-up. Dramatically reduces brittleness and breakage. Botanical Extracts regenerate hair shaft and renew manageability. Free of SLS, Silicone, Paraben and Coal Tar. Colour safe and cruelty-free. Contains natural ingredients.
HOW TO USE?
HOW TO USE?
Apply to wet hair and emulsify using small amounts of water. Rinse thoroughly after a gentle lather builds. The application of the brand's Huile de Leonor Greyl prior to shampooing detangles and nourishes hair.
ABOUT THE BRAND
ABOUT THE BRAND
The story of Leonor Greyl begins with the meeting of two passionate human beings: Leonor, a hair care and beauty fanatic, and Jean-Marie, an engineer and very keen botanist. Together, they share a common desire: creating natural hair care products long before the 'bio' trend became a hit. Thus, as the couple met in 1968, they clicked. Plants hold no secrets for Jean-Marie Greyl, who also has a degree in galenics. The idea of creating hair care products using plants and natural ingredients, not a mainstream practice at that time, catches on, and so the Leonor Greyl line was born.
INGREDIENTS
INGREDIENTS
Aqua; **Ammonium Lauryl Sulfate; *PEG-40 Glyceryl Cocoate; *Sodium Coceth Sulphate; **Decyl Glucoside; *Cocamidopropyl Dimethylaminohydroxypropyl Hydrolysed Collagen; **Cetyl Alcohol; *Jojoba Wax PEG-120 Esters; *Hydrogenated Vegetable Glycerides; *Hydrolysed Wheat Proteins; Propylene Glycol; *Parfum (Fragrance); *Hydroxypropyl Guar Hydroxypropyltrimonium Chloride; *Guar Hydroxypropyltrimonium Chloride; *Myristamine Oxide; *Bambusa Vulgaris Extract; *Hydrolysed Silk; *Allium Sativum (Garlic) Bulb Extract; *Cochlearia Armoracia (Horseradish) Root Extract; *Ferula Assa Foetida Root Extract; *PEG-15 Cocopolyamine; *Lauryl Dimethyl Amine Oxide; *Lactic Acid; Methylchloroisothiazolinone; Methylisothiazolinone; *Daucus Carota Extract; Butylphenyl Methylpropional; Linalool; Amyl Cinnamal; Geraniol. *Origin Natural, **Certified BIO