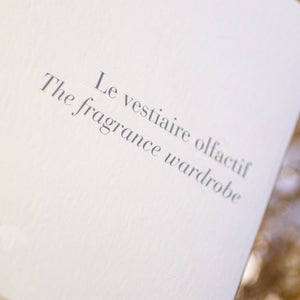 Fragrance Wardrobe For Him
An invitation to browse through the range of expressions, this Maison Francis Kurkdjian fragrance wardrobe for men presents a fine selection of sleek men's fragrances. This fragrance set consists of eight 11ml perfume refills to explore the different facets of the Maison Francis Kurkdjian fragrance creations: fresh and clean eau de toilette, intense and vibrant eau de parfum, elegant and urban extrait de parfum. This fashion wardrobe is a perfect gift idea whether you're giving or receiving.
You will find in this box set : Aqua Universalis Cologne forte, Aqua Celestia Cologne forte, Aqua Vitae Cologne forte, l'Homme À la rose, Gentle fluidity silver, Oud satin mood extrait de parfum, Baccarat Rouge 540, and Baccarat Rouge 540 extrait de parfum.
ABOUT THE BRAND
Maison Francis Kurkdjian was born in 2009 from the encounter between Francis Kurkdjian, a renowned perfumer with scores of successful creations to his name, and Marc Chaya, co-founder and president of the fragrance house. Together, they fulfilled their desire for a sensual, generous and multi-faceted landscape of free expression, creating a new emblem of French know-how and lifestyle. The Maison Francis Kurkdjian collection is sketched like a fragrance wardrobe, with myriad of facets of emotions. Designed in the tradition of luxury French perfumery, it advocates a contemporary vision of the art of creating and wearing perfume.