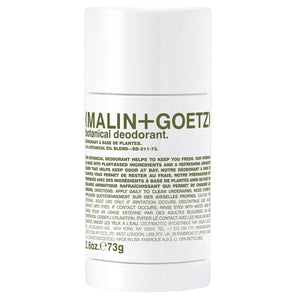 Malin+Goetz botanical deodorant offers clean + effective protection from underarm odor + reduces sweat without the use of aluminum, alcohol, baking soda, parabens or synthetic fragrance. synthesized with innovative deodorizing technology, this semi-translucent stick formula offers effective odor protection, gliding on smoothly + without leaving any residue or stains.
Suitable for all skin types, especially sensitive. natural fragrance + color.
How it works:
Witch hazel extract + antioxidant rich coconut oil helps neutralize odor-causing bacteria.
Barley powder helps absorb moisture.
Botanical blend of 12 natural plant extracts keeps underarms fresh while offering a soothing experience.
*Due to the level of natural extract + oils used, formula color may vary. this does not reduce the effectiveness of the product. Keep out of extreme or hot temperatures.
ABOUT THE BRAND
MALIN+GOETZ
uncomplicate your regimen.
founded in new york city in 2004, MALIN+GOETZ combines trusted natural ingredients with advanced technology to create head-to-toe skincare, fragrance and candles for your modern lifestyle. complex, yet easy-to-use, our products are made for all genders and all skin types, even the most sensitive.