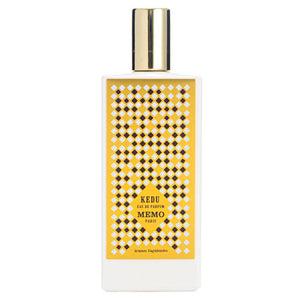 One-half of MEMO, Clara Molloy, worked with long-time collaborator and perfumer, Alienor Massenet, to compose a fragrance grounded on a central note of Sesame. The result is Kedu, an Eau de Parfum that is birthed through the inspiration of Javanese Buddhist rituals in Indonesia, where tradition has it that you can purify your soul by throwing Sesame seeds - one seed for each passion - into the flaming domes.
Notes: Oil of Grapefruit, Sesame Absolute, White Musk
ABOUT THE BRAND
ABOUT THE BRAND
Husband and wife team Clara and John Molloy founded fragrance brand MEMO almost a decade ago, having exploredthe world over, heaving bags of inspiration along the way. With that in mind, the Molloys produced a collection of scents based on the cities they have visited and loved, including Russia, Morocco, Ireland, Ibiza and Spain, amongst others. Each unique fragrance evokes a different memory, making itideal for those who want to carry the world on their shoulders - in this case, their pulse points.