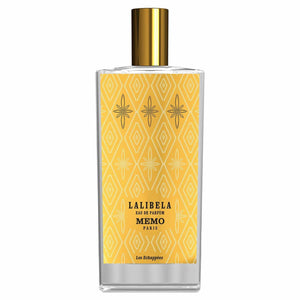 Lalibela Eau de Parfum, 75ml
Twelve churches hewn from the Ethiopian rock in a single night. Vanilla. Mineral rocks, sculpted, cloaked in pink, emerge from the earth. Labdanum resin. Heavenly builders driven by a mystical fervour. Jasmine absolute. Mysterious sanctuaries, protected by the frankincense of an age-old ritual. Oil of patchouli. The hum of bees in the flowers, a joyous zeal. Rose. The fate that makes a fragrance a story. Lalibela.
ABOUT THE BRAND
ABOUT THE BRAND
Husband and wife team Clara and John Molloy founded fragrance brand MEMO almost a decade ago, having exploredthe world over, heaving bags of inspiration along the way. With that in mind, the Molloys produced a collection of scents based on the cities they have visited and loved, including Russia, Morocco, Ireland, Ibiza and Spain, amongst others. Each unique fragrance evokes a different memory, making itideal for those who want to carry the world on their shoulders - in this case, their pulse points.