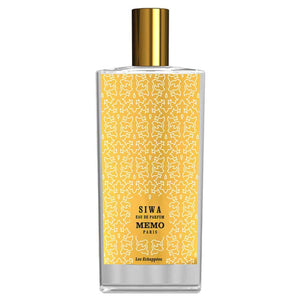 The Oasis of Siwa, luxuriant exception in the harsh, arid desert. Vanilla absolute. A stretch of green lost in an endless sea of sand. Oil of cinnamon leaf. Narrow ochre and yellow-hued streets, clay lace vestiges, houses with brightly coloured doors. Narcissus absolute. The radiant greens of olive trees and palm leaves, the browns and violets
of sun-dried dates. Popcorn accord.
Siwa, a mirage, a bottomless well of desired visions.
ABOUT THE BRAND
ABOUT THE BRAND
Husband and wife team Clara and John Molloy founded fragrance brand MEMO almost a decade ago, having exploredthe world over, heaving bags of inspiration along the way. With that in mind, the Molloys produced a collection of scents based on the cities they have visited and loved, including Russia, Morocco, Ireland, Ibiza and Spain, amongst others. Each unique fragrance evokes a different memory, making itideal for those who want to carry the world on their shoulders - in this case, their pulse points.