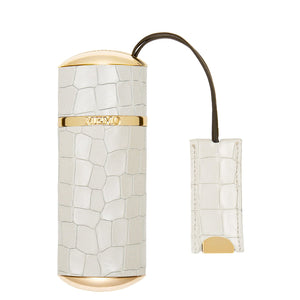 White Crocodile Travel Case
Memo travel cases, all leather dressed, skip into your bag with style. Sold empty, you can fill it with your favorite perfume thanks to the perfume kit. As it's refillable, you can use one of Memo's travel sprays especially imagined for this use. We wish you a pleasant journey aboard our perfumes. The golden plate can also be engraved with your name on request.
ABOUT THE BRAND
ABOUT THE BRAND
Husband and wife team Clara and John Molloy founded fragrance brand MEMO almost a decade ago, having exploredthe world over, heaving bags of inspiration along the way. With that in mind, the Molloys produced a collection of scents based on the cities they have visited and loved, including Russia, Morocco, Ireland, Ibiza and Spain, amongst others. Each unique fragrance evokes a different memory, making itideal for those who want to carry the world on their shoulders - in this case, their pulse points.