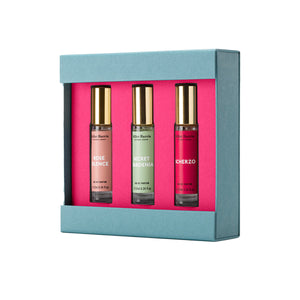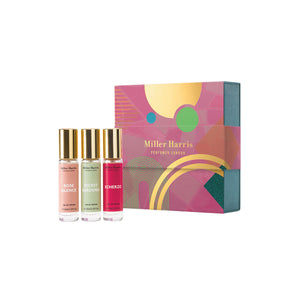 A chance to discover an edit of three of our best-selling fragrances. The Floral and Sweet edit has been curated to showcase a cocktail of florals both fresh and bold. These Eau de Parfums can be worn individually or layered on the skin to create a new combination. The perfect gift of discovery.

Set contains:
Scherzo 10ml Eau de Parfum - An intensely vibrant scent, full of colour, depth and a rush of sweetness, Scherzo captures a multitude of blooms: dark red rose, clouds of peony and sunny yellow narcissus. The base shimmers with oudh, earthy patchouli and a sprinkling of sugar to capture the feeling of a confectioner's window.

Rose Silence 10ml Eau de Parfum - Rose Silence feels like an intimate embrace and entirely of today. The delicate sensation of cashmere merges with tangy blackcurrant and juicy mandarin. The rose sits at the heart, envolped, freshly picked and serene.


Secret Gardenia 10ml Eau de Parfum - An abundance of gardenia flowers on a misty London morning, their pillowy petals bathed in dewy, pure light. Secret Gardenia captures those beautiful scents in a cool and fresh modern bouquet.

All sized in 10ml bottles, ready to accompany you anywhere.

ABOUT THE BRAND
Miller Harris, a couture British fragrance house, founded in 2000, with a spirit of bespoke fragrance creation at its heart.