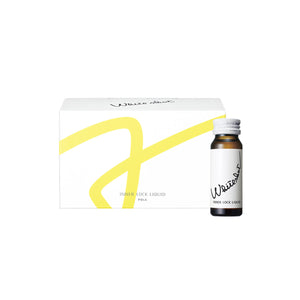 Feel a sensation of perfect freshness from the inside of the body.
Immediate approach toward clarity. Drinkable WHITE SHOT.
White Shot Inner Lock Liquid IXS N is a health and beauty food product with a fast-acting approach that focuses on supporting clarity from within the body.
The product contains five of POLA's original ingredients*1 and complexes*2 , including POLA's original ingredient Blannor® L, made by processing POLA's original ingredient Blannor® to be consumable as beverage, Concentrated Artichoke Leaf Extract, and Amra Extract, to enhance the skin's radiance from within.
Also formulated with patented ingredients Eyebright Extract and Ginger Extract, Vitamin C, Botanical Placenta Extract, Hyaluronic Acid, and Enzyme-treated Rutin to support a bright daily life.
Flavour: A clear lime flavor with natural flavours of fruits and herbs that give the sensation of perfect freshness.
*1: Concentrated Artichoke Leaf Extract, Amra Extract, Pfaffia Extract *2: Bayberry Bark S, Safflower Q
HOW TO USE?
Drink one bottle daily. Shake gently before consuming.
ABOUT THE BRAND
POLA originates from Japan and uses over 19 million skin data points to scientifically create the most groundbreaking and awarded skincare products. Formed in 1929 by a founder who created products to protect his much loved wife's skin, the brand lives its "Science.Art.Love" philosophy.