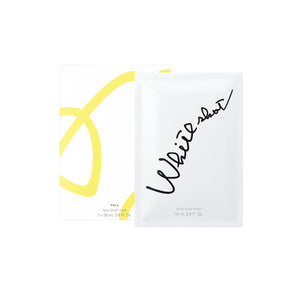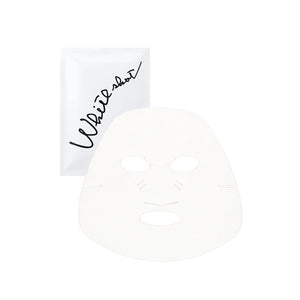 A multi-effect fast-acting sheet mask to brighten, smooth and hydrate your skin.
The new White Shot Mask QXS is a special multi-effect mask that is newly formulated with a brightening active ingredient PCE-DP*1, which inhibits melanin accumulation and prevents pigmentation and freckles, an active ingredient Tranexamic Acid, which prevents skin roughness, and 9 kinds of POLA's original beauty ingredients.
The unique formulation "Hydrate Shot System" allows the serum contained abundantly in the sheet to penetrate into the skin and be delivered to every corner of the skin.
The stretchable sheet fits the contours of the face well and wraps coolly to treat damage caused by UV rays and dryness, leading to the prevention of skin roughness.
It gives dull-looking skin a moisturized firmness with clarity and achieves smooth skin with a beautifully even texture.
*1: Dexpanthenol W
HOW TO USE?
Use about once or twice a week, after conditioning the skin with lotion. (Suitable for daily use)
Remove mask from the package. Unfold the mask gently, taking care not to pull too hard as it will stretch.
Match the eyes section of the sheet mask to your eye area and press the upper part of the mask down so that it fits over the entire forehead.
After lightly pressing on the inner corners of the eyes, attach the mask so that there are no gaps around the nose.
Finally, match the position of the mouth section of the mask and press it to fit the cheeks and then the face line.
*When you align the mask to the face line, place it gently for a better fit, instead of pulling the mask up. It will not adhere to the face as well if pulled.
After about 5 to 10 minutes, peel off the mask and gently massage any remaining essence into your skin.
Note:
If using a serum, please use the mask in place of or before the serum.
The mask contains plenty of essence. Be careful not to let the essence drip when you take the mask out of the package.
ABOUT THE BRAND
POLA originates from Japan and uses over 19 million skin data points to scientifically create the most groundbreaking and awarded skincare products. Formed in 1929 by a founder who created products to protect his much loved wife's skin, the brand lives its "Science.Art.Love" philosophy.