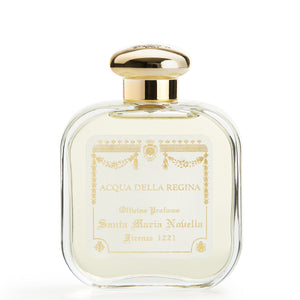 Acqua della Regina Eau de Cologne
Product Highlights
Olfactory Family: Hesperidate
Top: Italian citrus fruits, Neroli, Petitgrain
Middle: Neroli, Rosemary, Cloves, Lavender
Base: Patchouli, Musk
Acqua della Regina tells you a royal story, inspired by 800 years of tradition, just waiting to become your story.
A royal tribute to the gift of love from Caterina de' Medici to the king of France. Acqua della Regina is the Santa Maria Novella's oldest fragrance.
Acqua di S.M. Novella - also known as Acqua della Regina (the Queen's Water) - it celebrates the perfume that Caterina de' Medici commissioned the Dominican monks to create in 1533, and she took it with her to France when she married Enrico di Valois. It is a fresh and citrusy bouquet.
ABOUT THE BRAND
Officina Profumo-Farmaceutica di Santa Maria Novella sets its roots back to 1221. Founded as a Dominican friars conventum, it is considered today the oldest pharmacy in the world, which carries its activities in the very places where they all began. Its apothecary art legacy crosses eight centuries and is deeply intertwined with Florence history, personalities and social tissue, in a continuously-renewed alchemy of tales and wonders. Today's Officina is famous all over the world for its perfumes, candles, and "traditional preparations". It all began 800 years ago, when the Dominican friars were granted the use of Santa Maria Inter Vineas ("Holy Mary Among the Vines"): it was a small church just outside the city walls, where they cultivated a botanical garden of herbs and plants to craft medicines, ointments and balms. In 1334, the Dominican friars of Santa Maria Novella rose to greatness for healing the rich merchant Dardano Acciaioli: coming from one of the most powerful families of Florence, as a sign of gratitude, he donated them the magnificent San Niccolò-devoted chapel that still today sits at the very heart of our boutique-museum in Via della Scala 16 in Florence. Some time later, in 1533, once again the Officina played a leading role in Europe's history of perfume-making. 1533 was the year in which the young Caterina de' Medici chooses Renato Bianco, raised by Santa Maria Novella's Dominican friars, to accompany her as personal perfumer at the Court of France, where she was about to marry Henry II of Valois. Legend has it that in that very occasion "Acqua della Regina" was born: a fragrance to recall Florence's elegance and grace. Today's "Acqua della Regina" (The Water of the Queen) is our homage to that gift: a citrusy discovery, a bewitching essence, that intrigues us since the dawn of times. In 1542 the Pharmacy doors officially opened to the greater public, and in 1612 it was formally recognised with the name of "Officina Profumo-Farmaceutica" by the Granduca di Toscana (the Grand Duke of Tuscany), who also granted it the title of Fonderia di Sua Altezza Reale (Foundry of His Royal Highness). The Officina Profumo-Farmaceutica was later to be run by notable Dominican personalities such as Angiolo Marchissi, a great medicine and alchemy scholar, and Cosimo Bucelli, the aromatist who began to pair medicinal properties with pleasurable ones. In the 19th century, the Officina's pharmacy spaces became a municipal property managed by layman Cesare Augusto Stefani. Officina's fame by then seems to reach the five corners of the world: its products gain international acclaim, and are prized by royal houses, notable artists and personalities. It was a period of audacious growth and innovation: alongside the traditional preparations, cosmetic and personal care items such as balms, ointments, soaps and perfumes become extremely popular. In the 20th Century, the Officina relaunched and turned its Florentine traditional shop in Via della Scala 16 into a major museum, a prominent touristic and cultural destination. Lastly, in September 2020, Officina Profumo-Farmaceutica di Santa Maria Novella is acquired by Italmobiliare, the investment holding that enhances important Made in Italy brands.