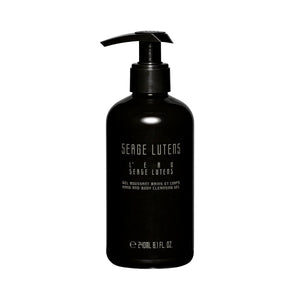 Matin Lutens L'eau Liquid Soap
A moment of serenity, a return to basics to reconnect with the essential through the new Matin Lutens collection.
The Matin Lutens foaming gel transforms into an enveloping foam on contact with water for delicately scented skin:
Taking up the notes of the L'eau Serge Lutens perfume, the foaming gel is the first expression of this perfume:
"Under the iron ironing, the steam gives off an odor: that of clean laundry. »
Prolong this moment by spraying a few drops of the associated eau de parfum.
Clean, sustained, obvious
Matin Lutens, a line evoking by its refined aesthetics and its purity, all the simplicity of a ritual focused on morning essentials: water, bath and... a few drops of perfume
Raw materials, colors evoking a serenity finally found, in perfect harmony with the organic spirit of the olfactory creations of this collection, Matin Lutens offers everyone the long-awaited return to basics: The tranquility of an awakening in grace!
ABOUT THE BRAND
Dissimilar though they may be, these fragrances all have something in common: they are the progeny of Serge Lutens' imagination. He watched over their development, session after session, from conception to the moment of their birth, when they were first used to fill a Serge Lutens spray bottle. The quality of these fragrances is remarkable. Small and ultra-portable, they can either be applied with the stopper for the sheer elegance of the gesture or sprayed on for ease and convenience.