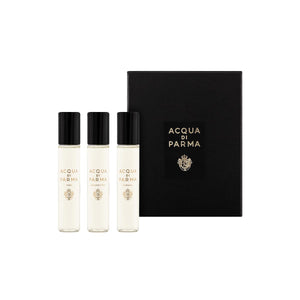 Signatures Transparent Discovery Set
An invitation to discover a kaleidoscope of bright new experiences, compositions of sparkling depth and bold brilliance: Yuzu, Osmanthus and Sakura in travel-friendly 12ml vials.
HOW TO USE?
ABOUT THE BRAND
Founded in 1916, Acqua di Parma was born out of a vision to share the yellow gift of Italian Sun, Soul and Style with the world. Products are lovingly made by traditional craftsmen, where imperfection is cherished. By celebrating simplicity and generosity, it is all about Italian lightness at its heart.