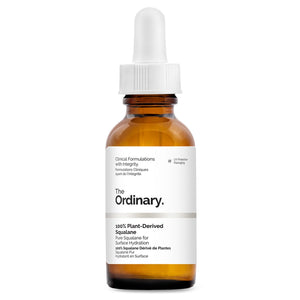 100% Plant-Derived Squalane
Product Highlights
A Lightweight Plant-Derived Solution to Support Healthy Hydration
Squalane is a saturated and stable hydrocarbon that is found naturally in the skin. It has very high emollience, is an exceptional hydrator and can prevent ongoing loss of hydration that impairs dermal suppleness. Squalane is non-comedogenic and is suitable for use on all skin types. It can also be applied to hair to increase heat protection, add shine and reduce breakage potential.
Note: This product uses 100% pure plant-derived Squalane that is ECOCERT approved and is a USDA Certified Bio-based Product.
HOW TO USE?
Apply a few drops daily or as needed to entire face ideally after water-based treatments.
ABOUT THE BRAND
The Ordinary is an evolving collection of treatments offering familiar, effective clinical technologies positioned to raise pricing and communication integrity in skincare. The brand was created to celebrate integrity in its most humble and true form. Its offering is pioneering, not in the familiar technologies it uses, but in its honesty and integrity. The Ordinary is born to disallow commodity to be disguised as ingenuity. The Ordinary is "Clinical formulations with integrity".
INGREDIENTS