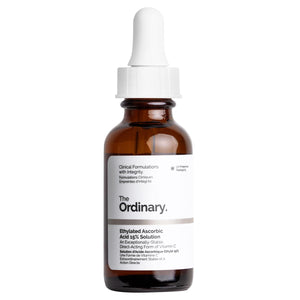 Ethylated Ascorbic Acid 15% Solution
Product Highlights
An Exceptionally-Stable, Direct-Acting Form of Vitamin C
Vitamin C is an effective antioxidant that brightens the skin tone and reduces the appearance of signs of aging. This solution offers a direct-acting form of Vitamin C, an effective antioxidant that has been shown to reverse multiple signs of skin aging while brightening the skin when applied topically. In its pure form, Vitamin C is unstable in water. This formula offers a highly-stable, water-free, 15% Ethylated L-Ascorbic Acid solution. Unlike Vitamin C derivatives, ELAA does not require conversion to LAA (pure Vitamin C) and is directly usable by the skin. Using propanediol as the carrier for ELAA also ensures that it can efficiently penetrate into the skin and offer the best possible results.
HOW TO USE?
Apply a few drops to face AM and PM.
ABOUT THE BRAND
The Ordinary is an evolving collection of treatments offering familiar, effective clinical technologies positioned to raise pricing and communication integrity in skincare. The brand was created to celebrate integrity in its most humble and true form. Its offering is pioneering, not in the familiar technologies it uses, but in its honesty and integrity. The Ordinary is born to disallow commodity to be disguised as ingenuity. The Ordinary is "Clinical formulations with integrity".
INGREDIENTS
Propanediol, Ethyl Ascorbic Acid