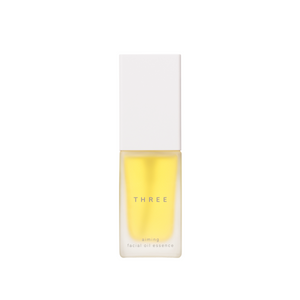 An oil-based hydrating facial serum, powered by natural ingredients and potent antioxidants to smooth, nourish and plump skin. This gentle oil serum contains essential oils botanical oils & extracts to provide deep hydration.
HOW TO USE?
How to use: - Take an appropriate amount on your palm. - Spread over the skin from the bottom to the top of the face and let it absorb. - Finally, wrap the entire face with both hands and gently press the skin.
ABOUT THE BRAND
Based on the notion that the mind, body, and skin are inseparable, THREE proposes a holistic regimen to bring out one's beauty. THREE believes that true beauty lies in living with a positive, open attitude, and by respecting both the precious blessings of nature and oneself as part of it. Supercharged with the powerful effects of essential oils and plant-based ingredients, THREE's skincare products actively support the skin by boosting its natural mechanism to enhance its beauty. With the focus on translucence and texture, THREE's make-up range accentuates the beauty of bare skin with a complexion glowing with vitality.