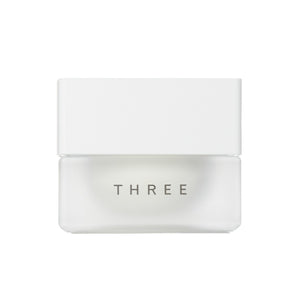 The Balancing Cream R firmly penetrates the surface to deliver moisture into the skin. This creates a strong, supple and smooth texture, giving the skin a dewy and radiant quality.
HOW TO USE?
HOW TO USE?
After preparing the skin with emulsion, take an adequate amount of the product (size of 2 large pearls) and warm it between the palms. Covering the face with the palms of your hands, take a deep breath.
Gently apply to the face from the jawline upward and from the center of the face outward, letting the cream penetrate into the skin. Finally, gently press and hold the parotid glands for a few seconds.
ABOUT THE BRAND
ABOUT THE BRAND
At THREE, we believe true beauty lies in living with a positive, open attitude, respecting both the precious blessings of the natural world and oneself as a part of nature.

THREE HOLISTIC CARE evokes the gifts from plants that exceed human senses such as essential oils to restore the natural power of the body that may be weakened by environmental factors of the modern society. We consider mind, body and skin together as a whole, and bring you the feeling that reaches the "instinct" of beauty.
INGREDIENTS
INGREDIENTS
99% naturally derived ingredients
KEY INGREDIENTS
Essential oils: Frankincense oil, Bergamot fruit oil, Geranium oil, Marjoram oil
Botanical oils: Olive oil, Tea seed oil, Pracaxi oil, Jojoba oil, Milk thistle oil
Botanical waters: Striped bamboo water, Bitter cherry fruit water, Apple fruit water
Extracts: Turmeric Callus Lysate, Crithum Maritimum, Tea Flower, Passion Flower, European Beech Bud
Benefits
Benefits
A moisture-rich cream with a velvety texture which glid