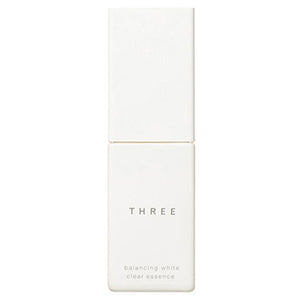 Powerfully prevents dark spots, leading to clear, even-textured skin.
A boost type medicated whitening serum, containing patchouli oil as a base, allows blended essential oil to be absorbed quickly into the skin to leave it silky smooth. Arbutin, the active whitening ingredient, powerfully suppresses the formation of melanin to prevent dark spots*. A blend of botanical ingredients restores the skin's natural moisture balance to keep the skin bright and smooth, protecting it from drying out.
ABOUT THE BRAND
At THREE, we believe true beauty lies in living with a positive, open attitude, respecting both the precious blessings of the natural world and oneself as a part of nature.

THREE HOLISTIC CARE evokes the gifts from plants that exceed human senses such as essential oils to restore the natural power of the body that may be weakened by environmental factors of the modern society. We consider mind, body and skin together as a whole, and bring you the feeling that reaches the "instinct" of beauty.