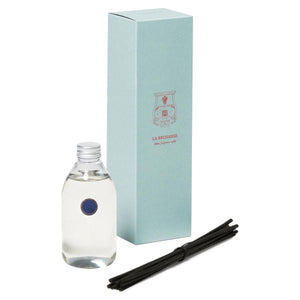 Refill for Le Diffuseur.
The set is composed by a 300ml bottle containning the fragrance and 8 natural, black rattan sticks.
The refill allows a 3 to 4-month long, passive diffusion.
A gust of freedom blowing from the Mascara coast and the mountains picks up on its way the green scents of fresh mint, the rashness of fights, ginger's hot and peppered air and the perfume of tea and tobacco from the Ouled Nail tribe…
Head Notes
Blackcurrant Bud, Lemon, Clove, Ginger, Mint, Apple
Heart Notes
Jasmine
Base Notes
Vanilla
ABOUT THE BRAND
Founded in 1643 on the threshold of the reign of Louis XIV, Trudon is the oldest candle maker in the world with creations that are still handcrafted in Tuscany, Italy to this day. The wax formulas of the candles are the fruit of specific developments which are the source of its exceptional olfactory and burning qualities, with all Cire Trudon fragrances developed with the utmost care and patience in partnership with renowned perfumers.