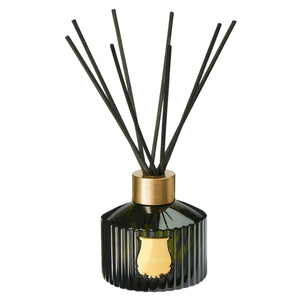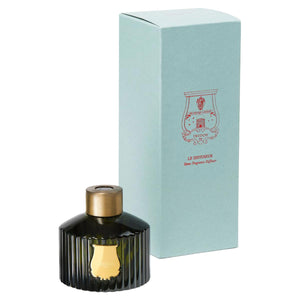 The collection of Home Objects welcomes a new icon: the Trudon Diffuser joins L'OEuf, the Room Spray and La Promeneuse to further perfume interiors.
Shaped out of the same emblematic Trudon-green glass, the 350ml fluted container is adorned with a gold emblem.
Handcrafted in the same glass manufacture than the candles, the Diffuser is topped with a 100% recyclable aluminum ring. Through it, you place 8 natural, black rattan sticks.
The diffuser allows a 3 to 4-month long, passive diffusion.
Separate refills available.
Fragrance
Splinters of crimson, gold and olibanum, heady and holy perfume of altar candles, luxurious wake of the senses and perfume-burners where amber splutters : under the nave of a cathedral, the jubilant choir and the holy scents rise into the souls.
Head Notes
Aldehydes, Incense Vapors
Heart Notes
Lily of the Valley
Base Notes
Benzoin Resin, Labdanum
ABOUT THE BRAND
Founded in 1643 on the threshold of the reign of Louis XIV, Trudon is the oldest candle maker in the world with creations that are still handcrafted in Tuscany, Italy to this day. The wax formulas of the candles are the fruit of specific developments which are the source of its exceptional olfactory and burning qualities, with all Cire Trudon fragrances developed with the utmost care and patience in partnership with renowned perfumers.