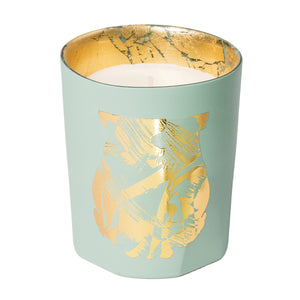 The founding idea behind the Maître Tseng × Trudon collection came from imagining the flow of water from the sky, enriched by elements of the earth. Reflecting this idea, this range of scented candles is expressed in three stages.
L'Esprit de L'Eau (The Spirit of Water) is embodied by a mystical water with the fragrance of incense.
Created by Benoist Lapouza, it combines a mineral accord, that of clear water gliding over mountain rocks, with woody notes of cedar and of cypress, as well as spicy notes of pepper and juniper berry. L'Esprit de L'Eau illustrates high perspective and purity, as its name in Chinese suggests: Book of Song (Dynasty) refers to the ascetic philosophy of that time, seeking from nature inspiration for a spiritual life in solitude and elevation.
ABOUT THE BRAND
Founded in 1643 on the threshold of the reign of Louis XIV, Trudon is the oldest candle maker in the world with creations that are still handcrafted in Tuscany, Italy to this day. The wax formulas of the candles are the fruit of specific developments which are the source of its exceptional olfactory and burning qualities, with all Cire Trudon fragrances developed with the utmost care and patience in partnership with renowned perfumers.