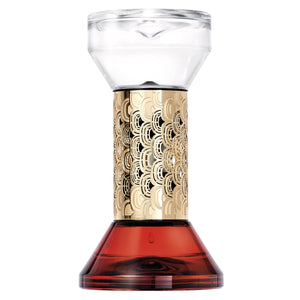 The diptyque hourglass reinvents perfume for the home. Simply turn the hourglass over for a perfumed, sensory experience. By an ingenious process combining gravity and capillarity, the fragrance flows slowly from one glass bottle to another. Its subtle scents then diffuse, for a singular hour: the diptyque hour. Featuring the heady yet fresh and green scent of the tuberose flower, delicately nuanced with fruity and milky notes.
HOW TO USE?
HOW TO USE?
Driven by a spirit of innovation, diptyque has reinvented the concept of home fragrance with the hourglass diffuser. Simply turn it over to begin a diffusion cycle of about an hour and enjoy a scent and sensory experience: the diptyque hour. Ideal to perfume small spaces for several months, until the perfume has totally evaporated, it can then be refilled twice with the same fragrance. Do not place the hourglass directly on a glass, wood or marble surface.
ABOUT THE BRAND
ABOUT THE BRAND
Diptyque is a contemporary, emblematic, pioneering PARFUMERIE Maison; a discreet precursor of authentic luxury and the art of living through the senses, where fragrance and art are integral to everything.
PERFUMER & ARTIST in Paris since 1961, Diptyque is constantly innovating, offering totally surprising olfactory collections, facecare and body care, scented candles, clever decorative fragrance diffusers that combine tradition and cutting-edge technology, as well as distinctively original interior decorating collections that add extra soul and charm to any home.
In its ongoing quest for quality and excellence, Diptyque continues to uphold a free-spirited, artistic approach, hovering between tradition and avant-garde, to create products that offer daily imaginary journeys of the mind and the senses.
It's almost 60 years of free-spirited, artistic Parfumerie, rooted in joyful creativity and enchanting, eclectic encounters.