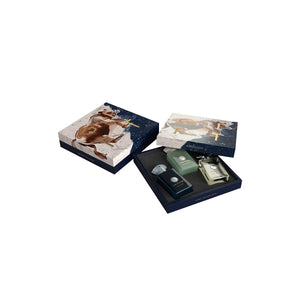 The quintessence of masculine refinement, Ursa Major evokes stability and balance, with a freshness that is both nuanced and refined. True to its animalistic nature, its earthy woody elements offer something quite visceral and primeval, a surging emotion of inner connectivity drawn from nature.
Enclave
As the last sun rays bid farewell to fjords of Musandam, Enclave sophisticatedly portrays the freshness trapped inside a rich, earthy warm hideaway where land meets the sea.
Meander
Meander explores the exhilarating feeling of happiness in a land of fog, lush green mountains and running streams.
Boundless
Boundless is a burst of joy, a fleeting euphoria, translating the vertical tension that empowers those who want to enclose in their hands the immensity of the world. This ardent and vivacious energy echoes that of sunlight bouncing off the dewy leaves of the jungle, flickering in rays through a flower-studded canopy and grazing rainbow-barked trees before vanishing amongst gnarled and misty-kissed boughs.
ABOUT THE BRAND
Amouage is an international luxury fragrance house renowned for creating some of the most finely crafted perfumes in the world. Founded in the Sultanate of Oman in 1983 to be 'The Gift of Kings', the House has redefined the Arabian art of perfumery and garnered a global reputation for bringing innovative modernity and true artistry to all its creations. Masterfully paying tribute to its heritage, Amouage is a unique fusion of East meets West that defines avant-garde opulence. It expresses the contemporary majesty of Oman - a historic trading center for incense and myrrh - around the globe, with arresting and alluring collections that speak to a sophisticated, confident and well-traveled discerning clientele who seek something compellingly precious, extraordinary and personal, every day.