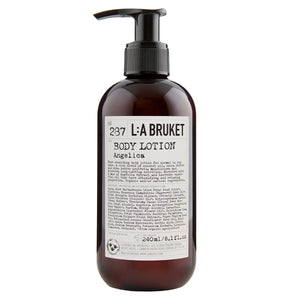 Product Highlights
A highly hydrating and easily absorbed body lotion that protects the skin from dryness whilst strengthening the skin barrier for softer and smoother skin. The fresh green scent of Angelica is fragrant with aniseed, celery, lavender and musk, redolent of the Swedish west coast. A relaxing and detoxifying scent for a moment of calm and serenity.
A highly moisturising body lotion for normal to dry skin with a relaxing and detoxifying angelica fresh green scent.
Made in Sweden
COSMOS natural
Vegan
ABOUT THE BRAND
Natural and organic skincare made on the west coast of Sweden, formulated with the philosophy that we don't need chemicals to innovate skincare. Wind, mud, salt, rock, ice, sand, water and sun in a tangle of continuous change: Swedish nature isn't something you visit, it comes to you whenever you step outside. Under these harsh coastal conditions our skin and hair get weathered, however rather than hide from nature, we turn to it for inspiration and answers. From 2008 we have been developing natural formulas to protect and nurture skin and hair, with the understanding that if our products are effective despite the unforgiving conditions, they will be of a quality more than capable to meet the demands of any situation and any place. Our visionary product development work is backed with a well-established knowledge of natural skincare. We are uncompromising when it comes to the purity of our formulas, because to protect and restore your skin, you must nurture it with only the natural molecules it can absorb and utilize to perform better.